Emery Stora
From our Technical Vice President

Cody Roundup Tech Report
The really nice thing about the GMC Western States rallies is the chance one gets to not only see old friends but to make some new ones. Michelle and I have again met members that we had not met at previous rallies and we hope to see them again soon at future rallies.
We started our technical sessions on Saturday morning with a talk on "Resurrection a GMC" by Richard Archer of DeSoto, IL. Richard is known to many of us as "Arch" on the GMCnet Internet mailing list. Arch was not a member of GMCWS when I invited him to come to our rally and tell us about his experiences in overhauling and updating a GMC that he purchased from a junkyard. He gave an excellent slide show presentation and talk with many, many questions from the audience. Arch has now joined our club and we hope to see him at the next rally.

Richard "Arch" Archer
Next was a talk by Mark Elmer of Eagle Mountain, UT. Mark gave a presentation on "Storage for The Sexes" in which he detailed many ways of finding storage in the GMC for the needs of both the driver/mechanic and his/her companion. These needs are often at odds but Mark has shown innova-tive ways of satisfying everyone.
Mark Elmer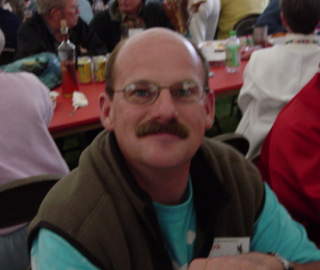 On Sunday was a bus trip to Yellowstone, which many members attended so there were no scheduled tech sessions. We did have some impromptu dem-onstrations on the grounds including replacement of a rear spindle on Kerry Tandy's coach and repack-ing and replacing the rear wheel bearings and brake parts. We also had a lot of "helpers" (voyeurs) when we tackled the front axle of John Bush's coach. Some learned how to remove the front axle without taking off the knuckle. Then both the inner and outer constant velocity joints were repacked and new boots installed.
To begin Monday's presentation, Dallas Jensen gave an update of GPS (Global Positioning Satellite) equipment and computer software. He went into a lot of good detail about what equipment is available and how to best install it. Dallas also reviewed several trip planning computer programs which can interface with a GPS such as Street Atlas which many of us use with or without a GPS. Dallas travels all around the USA in his GMC, Me and My Shadow, and his reports of his travels can be found on the net at: http://www.dallasjensen.com/

Dallas Jensen
Paul Burkhart of Pueblo, CO provided us with an excellent review on the use of propane in our GMCs. Safety consideration was a major item in his talk. Handling of propane, including making sure that a vendor fills the tank properly and leak detection were all covered. Paul also showed us a manometer that is used to measure the pressure of one's propane system coming from the regulator. Paul showed us how to make a manometer using clear plastic tubing and a board with a ruler, which will show the pressure in "inches of water". He also demonstrated how to adjust our regulators to insure that the gas appliances work properly.
On Tuesday I gave a presentation on the installation of headers, fabrication of a "Y" and installation of three-inch tailpipe with an in-line muffler in the rear. Details of this will soon be posted on Gene Fisher's web site: http://www.california.com/~eagle/
If anyone doesn't have use of the Internet please let me know and I can mail you this information.
We ended up our technical presentations with a question and answer session "Ask the Experts".
"Arch" Archer, Paul Burkhart, Frank Condos, Chuck Garton and Jim Kanomata all served on our panel for this rally. Many good questions on the operation, maintenance and repair of GMCs were asked and even better answers were given.
I have thoroughly enjoyed serving as your Techni-cal VP for these last two years and I hope that you have enjoyed my efforts. If I can be of help to any of you in the future, please let me know. I hope that I will be able to continue to help the club in what-ever way I can in the future.
Please send your comments and ideas for the Tech Center to:
Eugene Fisher, Technical Vice President
2480 Marina Ave., Livermore, CA 94550
925-447-8079, mr.erf@escapees.com
Somewhere in Yellowstone Park, Kerry Tandy lost a rear wheel due to a bearing/nut/spindle failure. (Say, was that MY wheel that just came past me?) With help, he made it into Cody. Shouldn't the "war paint" go under the eyes? -Anonymous
Kerry Tandy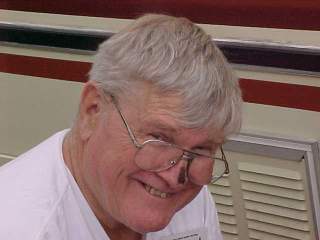 ---
This material is based on my personal experience and the personal experience of other club members. It is our viewpoint and does not represent authorized data pertaining to the GMC Motorhome. It is the responsibility of the readers to make their own judgment as to the validity of this material in relation to any repairs and/or modifications to their own vehicles.
Please send your comments and ideas for the Tech Center to:
Emery Stora, Technical Vice President,
3128 Vista Sandia, Santa Fe, NM 87501-8526
Phone: (505) 989-8157
E-mail: emerystora@mac.com