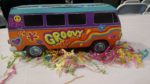 GMCMI 2018 Spring Convention
April 6 - 12, 2018
GMCWS, GMC Pacific Cruisers and members of several other western clubs combined forces to put on a great "Western GMC Clubs Day" at the GMCMI Convention. Our day started with a strawberry waffle and sausage breakfast served by members of our clubs. At noon, the ladies had a fun luncheon where they traveled back to the 70's for lots of peace and love. We had a great turnout (75 ladies) and we all enjoyed the food, the music, the games, the door prizes and the camaraderie. I had a lot of fun hosting the event and was very grateful for all the help I received from the western clubs' ladies. Just groovy!
At cocktail time, the Pacific Cruisers hosted a meet and greet for all convention attendees. It was a big hit as we all met near the GMCWS host coach and shared lots of fun appetizers and our famous margarita bucket.
After that, Dave DeGraffenreid and Manny Travao did their magic, recruiting several members to cook and serve delicious burgers and dogs on a giant grill. Over 250 people dined on the goodies and everyone had a great time. And for anyone who still had room for dessert, we put on an ice cream social for all attendees with GMC club members as servers.
The grand finale was a lively auction hosted by GMCWS and led by Bill Kitteredge and Dave deGraffenreid. We had lots and lots of laughs …. and made some money for the club. Really fun!
Other than our special Western Clubs day, we contributed several other non-tech events. Kathy Stouffer made three really great and very well attended non-tech sessions: Aerobics for the mind, Fall Prevention, and Using Newspapers for Genealogy. Bobbie Schultz conducted a Bookworms and their Diet session and reviewed the book "Circling the Sun"by Paula McLain. Participants shared titles of books they liked and recommended (Kim Weeks will put those on the GMCMI website).
Dave deGraffenreid hosted the GMC Couples Game and five couples showed us what they knew (or didn't know) about their GMC histories.
GMCMI also put on several non-tech sessions including a Strength and Balance class, a Cooking and Storing in a Vintage Vehicle class, a Geocache treasure hunt, a Ladies Get Acquainted session, a Quick and Easy cooking demo, a Seventies Dance Lesson (where we learned the Brooklyn Shuffle and then "tried"to perform at the Disco night dinner), a personal story of a daughter's visit to Omaha Beach, and the She-Shed where anyone could come play with crafts, socialize, and snack.
There was never a dull moment. It was a great week. Looking forward to our GMCWS rally at Mt. Hood in October. See you there!
Cheers,
Carol Minnie