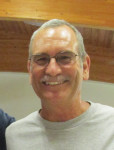 Hello to GMCWS members from your Treasurer, Dave de
Graffenreid. For those of you who aren't aware of what I do for
the GMCWS club:
Throughout the year I deposit membership dues (thank you for
sending in your dues in a timely fashion), pay the club's various
expenses, and send deposits to RV parks for future rallies, like
the Spring rally at Pechanga/Temecula, CA and the Fall rally at
Coos Bay, Oregon. I also arrange for periodic audits of the
Club's finances. I am looking forward to seeing you all at both
rallies this year.