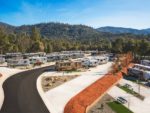 Get ready for an epic GMCWS Spring Rally....We are taking you to California's historic Gold Rush area.
May 1 thru 5 at the beautiful new Black Oak RV park and Casino in Tuolumne. This park is just 10 miles north of Sonora. There is alot of history in this area including Yosemite National Park and Columbia State Historic Park.
We have a fun filled 5 days planned for you ending with a festive Cinco de Mayo party, and of course the famous Kanomata Margarita Bucket. Hope to see you all there.
Rally Masters: Dave, Donna, Armand, Carol and all of the board
Stay Tuned For More Updates