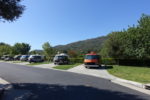 Another great rally by Joanne and Phil Hernandez!  They picked an ideal venue - the Pechanga Casino Resort in Temecula - and filled it with good food, fun, and plenty of socializing.
The non-tech seminars included a Phone seminar by Armand Minnie, two craft sessions with Jodell Banovich and Carol Minnie, a book review led by Eileen Staal, and a great appetizer preparation session with Dave and Donna deGraffenreid.
Jodell helped us make beautiful paper flowers that we glued to twigs for a wonderful no-wilt bouquet.  And Carol showed us how to make gift bags from simple lunch bags, adorn them with decorations and coordinating gift tags, and then put together a great little set of notecards to include in the bags.  There was lots of creativity and camaraderie and fun!
Eileen had a great turnout for the book review and everyone enjoyed discussing "The Perfume Collector".  It was such an interesting book and there were lots of guesses about the plot when it was discovered that the hardback vs. soft cover vs. E-book had different versions of the ending!  Great choice, Eileen.  And for anyone wanting a headstart on the Coos Bay book session, read "Wild" by Cheryl Strayed.  It's a great adventure and we will have lots to talk about!
On the technical side we had Rob Mueller give a seminar on centering the steering box, Jim Kanomata talked about fuel injection and the MSD Atomic system. Mark Elmer, our NAPA man, gave a very informative talk about automotive chemicals and sealers. Chuck Botts talked about the redesign of their 23-footer to accommodate their RV lifestyle. Gary Worobec visited with his hotrod pickup truck and Martin Carew showed off his 77 "23D" a conversion done about 12 years ago by Jim Bounds at the Coop in Florida
With Dave and Donna's help, we prepared sangria, fresh (delicious) guacomole, bean dip and mini-quesedillas as appetizers for the big Cinco de Mayo meal on the last night.  Ben Wright added his delicious margaritas and a good time was had by all.
All the meals were delicious - outstanding breakfasts, and hearty dinners.  The final dinner was a Cinco De Mayo special.  It was also the celebration of the 70's and several members got into the spirit with some great 70's costumes.
Thanks to Joanne and Phil and to all the volunteers for making this such a successful rally.