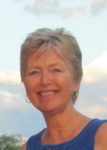 Well we definitely had some fun in Pahrump! Our Spring 2017 Rally there (April 20th - 24th) was great. Many thanks to Nick and Donna and George and Jodell for all their hard work. And thanks to all the volunteers and the wonderful staff at the resort and the casino. Meals to die for! Best pasta alfredo ever, and lots of yummy desserts.
The non-technical programs were very well attended and everyone seemed to enjoy themselves. We had a good time at the Ladies' Garden Party and the fashion show. The appetizers from our "Easy Appetizers" session were a hit at happy hour and the "My Favorite Book" discussion seemed to be one of the most popular sessions. Our ladies' talents were on full display. The wreaths and the charming necklaces were all works of art and we're grateful to Scotta Carr and her trusty helpers from the resort who taught us how to create our own personal masterpieces. Thanks, also, to Donna DeGraffenreid and Ruth Beckman for helping with the programs.
Here are a few pictures but look for more in the next newsletter.