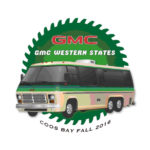 GMC Western States Fall Rally 2016, North Bend (Coos Bay), Oregon
The Mill Casino • Hotel & RV Park
October 10-14, 2016
This is going to be a great West Coast Rally. So far there are GMCers coming from five Canadian Provinces and nine U.S. States. You won't want to miss out! Come join the fun and excitement!
The Rally Fee includes 4 nights at the Mill RV Park, excellent technical and non-technical seminars, Shore Acres State Park Excursion, Swap Meet, Auction, Karaoke Night, four catered breakfasts, BBQ dinner, BBQ lunch, and two catered dinners:
Per couple with full hookups $385
Additional person $139
One person in a coach with full hookups $246
If staying at The Mill Casino • Hotel, call and make your hotel reservations mentioning that you will be attending the GMCWS Rally to get the special rate of $85.00 a night.
The Rally Fee for those staying in the hotel is:
Per Couple (no coach) $279
One person (no coach) $139
Coos Bay historic buildings dot the landscape along with a wide array of restaurants, unique shops, museums, antique shops and more to explore. There is plenty to see for those who feel adventuresome.
You can view all of The Mill Casino • Hotel and RV Park amenities by clicking here (Sorry, link is no longer any good).
To download the Registration Form and/or Tentative Rally Schedule go to the GMCWS website gmcws.org. Questions: Call 530-200-6247 or email me at gary.bovee@gmcidiotsguide.com.
See you there!
Gary & Rebecca Bovee, Rally Hosts