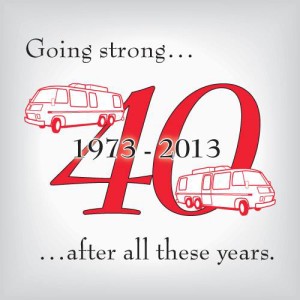 The GMC Western States Motorhome Club is a chapter of the Family Motor Coach Association (FMCA) and is made up of owners of classic 1973 to 1978 GMC Motorhomes.  The chapter's purpose is to promote the preservation of the GMC Motorhome.  We do this with a combination of technical seminars at our semi-annual rallies and published information in newsletters and on our web site.
Our rallies are held in the spring and late summer or early fall each year. At the rallies we have technical seminars conducted by qualified people who have extensive experience in unique GMC systems, such as front wheel bearings, the air suspension system, brakes, transmission, final drive, carburetion, fuel injection and lots of others. We also have sessions on other topics of general interest including tires, fuel, electrical systems, household systems and other similar topics.
For those of us who have their coaches all fixed up and may not be interested in GMC technical topics we also conduct non-technical seminars that may cover health or fitness while traveling, safety, travel experiences, crafts, coach decoration and remodeling.
Generally both technical and nontechnical seminars are held in the mornings, leaving afternoons free for sightseeing, shopping or other recreational pursuits. In the evenings we have potlucks, catered meals, local entertainment and great socializing. We try to make these rallies a truly rewarding experience for everyone.
Rallies are normally scheduled up to a year in advance so everyone has plenty of time to arrange their travel plans. They have been held in such scenic and interesting locales as Mt. Hood, Oregon; San Diego, California; Tucson, Arizona; Colorado Springs, Colorado; Calgary, Alberta; Fredericksburg, Texas; Bryce Canyon, Utah; Hope, British Columbia; Albuquerque, New Mexico; Ukiah, Palm Desert and Mariposa in California.