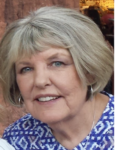 I am Sandy Clark and I am excited to be involved in the GMC Western States Newsletter.
Lynn and I have been GMC motorhome owners for over 20 years. We live in Draper, Utah, and belong to the Great Mountain Classics. We are parents of 5 daughters and 1 son. We have been blessed with 19 smart, amazing, beautiful grandchildren, and spend a fair amount of time attending their activities.
I retired five years ago from 28 years of teaching. I enjoy sewing, handwork, reading, gardening, and most of all traveling.
I am looking forward to sharing good times together in Paso Robles this fall.