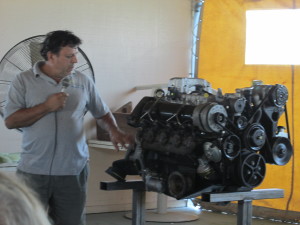 Manny Trovao announced his plan to provide a drop-in diesel engine for our Classic GMC motorhomes. Manny did not provide me with a written description but, fortunately, Jim Hupy posted the following on the GMCnet:
"No big secret. The engine is a BRAND NEW AM GENERAL 6.5 LITER DIESEL.
TURBO. pre-combustion chamber injected with glow plugs. Similar to the engine in the Hummer. Manny and the Rep from the factory put on a demonstration at GMCWS. The engine puts out about 400 foot pounds of torque at 2200 rpm. Mates to the TM-425. Uses a 6 lug flex plate and an appropriate torque converter. Manny beefs up the primary drive with special Torrington style thrust bearings. Engine will pull 2:73 or 3:07 final drive. Expected to produce 14 miles per gallon or so. It fits the engine bay through the top or out the bottom with no alteration to the coach. No raised hatch either. Looks to me like a winner. Cost? $10,000 +.    Jim Hupy"
Thanks, Jim
Update 10/5 8:30 p.m. from Jim Hupy:
"O.K. guys. Speculate all you would like, the FACTS of this situation is that a conversion is currently in progress. When the install is complete,
the coach is going to the AM GENERAL FACTORY for testing, and tweaking. Final configuration of turbo sizes, manifold configuration, Injector pump and lines and injectors, will be optimized for the GMCMOTORHOME. So if you think you know all there is to know about the 6.5, please wait and see how this one shakes out. I am very excited about this, as is Manny and Jim Bounds. It will be a few weeks until this deal totally shakes out, then we will see. Please be patient. Jim Hupy at GMCWS in Manteca, Ca."
Update 10/7 from Jim Hupy:
"the current 6.5 turbo diesel fitted into the Hummer is an entirely
different block and head configuration. It is NOT MANUFACTURED BY GENERAL
MOTORS. After GM wore out their tooling, they sold it and the manufacturing
rights to AM GENERAL. Upon inspection of the tooling and original castings,
AM GENERAL went back to the drawing board and spent a whole bunch of money
on a new engine manufacturing facility with new tooling, paying particular
attention to placement of head bolt threads. That was a source of engine
failures in the GM manufactured engines. AM General outsources the casting
of the engine blocks, not to GM. The factory rep told me the name of the
foundry, but I am unsure of the name so I will not name them. The nickel
content was increased from what GM specified, and I believe that less
Molybdenum is now used. This makes a very durable engine, similar to what
Olds used in the 455. Also makes it more difficult to machine and hard on
tooling. The AM General engine LOOKS LIKE THE GM BUILT ENGINE , but is, in
fact, quite different. They pull one engine from the production line out of
every 100 engines produced and test them on a dyno at maximum torque and
governed top rpm to destruction. Then engines are disassembled and
inspected to determine cause of failure. Improvements are incorporated into
the engines as the solutions are determined. Are they perfect? No, but they
are getting better. As more info becomes available to me, I will post what
I learn here." by Jim Hupy from the GMCnet