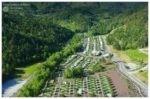 The Seven Feathers RV Resort, 325 Quintioosa Blvd, Canyonville, OR 97417 (541-839-3599) will be the location of the rally from October 2nd with checkout on October 7th.
All of the information, including the registration form and the schedule (when available) will be displayed in this post. Scroll down to see the various sections.
A Message from President Bobbie Schultz:
I'm so excited to announce that Western States is coming Oct 2--7th to Canyonville Oregon, Seven Feathers RV Resort, for our Fall Rally. It is a beautiful area in Southern Oregon which will be full of Fall colors. We need a Rally Master, who I will be working with as well. I've put together a brilliant full day bus tour for Thursday Oct 3rd with limited seats. The tour will include some gold panning, wine tasting, grouped with a fabulous lunch, which will include Prawns with bowtie pasta, salad, garlic bread, and 3 wine tastings, including one of Southern Oregon's most beautiful wineries. Our hosts will be Melrose Winery in Roseburg, overlooking the Umpqua Valley, located on the Umpqua River where you can wander the grounds or shop in the gift shop. Before we arrive at our destination, we will have crossed two historic covered bridges, be driven through beautiful forests of Douglas Fir Trees, which is Oregon's State Tree.
I encourage you to join us and be a part of another wonderful GMCWS Rally. Looking forward to hearing from you, but only if you enjoy beautiful scenery, a beautiful RV Resort, and lots of quaint historic towns. Thrown in are some surprises, that will astound you and will have the makings of another wonderful rally for the 2019 Fall GMCWS Rally.
Bobbie Schultz, President
The Road Less Traveled Tour by Bobbie Schultz
Cost $60.00 per person. Thursday, Oct. 3rd Departure 9:00 am
Our tour begins in Canyonville, from there we will be wrapping around the south Umpqua River, departing at 9:00 from 7 Feathers RV park. Traveling will be through farm country as the road bends with the river, crossing the Milo Academy Covered Bridge, continuing on to the Tiller Ranger Station. The Ranger Station is listed on the National Register of Historic Places. From the ranger station we swing north through the Umpqua National Forest, where we will view stands of Douglas Fir Trees, Oregon's State Tree. The route ends in Myrtle Creek, where we will do some browsing and shop for some coffee or tea, Oregon style. We will cross the Horse Creek Covered Bridge as we make our way to Riddle, a small historic town. I hope you brought your gold pan? So you can pan for gold in the recreational Gold Panning areas. Whether or not you pan for gold, you'll strike it rich on this 45mile Scenic Canyon drive through western Oregon's historic mining country.
I'm sure you've worked up an appetite and I've found a beautiful old winery in Roseburg, where we will be having lunch beside the Umpqua River. Lunch includes 3 wine tastings, prawns with bow-tie pasta, salad and garlic bread. Lunch is included with your tour. The winery also includes a lovely gift shop, for your shopping pleasure.
On our way home we will visit one more Winery, " Hill Vineyard", Oregon's oldest estate winery, before we head back to 7 Feathers RV Park.
Available spots will be limited, so sign up early.
Thank You, Bobbie