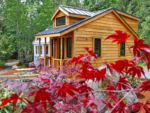 The GMCWS Mt Hood Rally is scheduled for for 5 days with arrivals beginning on the 4th of October and checkout on the 9th of October.
The rally co-hosts will be Gary Berry and Manny & Deo Trovao.
The rally will be held at the Mt Hood Village RV Resort, 65000 E. Hwy 26, Welches, OR 97067. (503) 622-4011.
There are 80 sites reserved (75 RV and 5 Cabins).