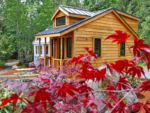 GMC Western States Fall 2018 Rally
October 4-9, 2018
Mount Hood Village RV Resort and Campground
65000 E. Highway 26, Welches, Oregon 97067 - 877-570-2267
REG FORM AND CHECK DUE TO GARY BERRY BY AUGUST 1, 2018
Click HERE for the registration form or see it below.
RALLY HOSTS: Gary Berry and Deo & Manny Trovao
Mark your Calendar for October 4th-9th (Thursday - Tuesday) for the Fall 2018 GMCWS Fall Rally. The Rally will be held at the Mt. Hood Village RV Resort in Oregon.
You won't want to miss out on the excellent tech seminars and non-tech activities. There will be plenty of good food, good friends, good times for all, whether this is your first rally or you are a seasoned GMC veteran. "The Mountain Between Us" by Charles Martin will be the subject of the book review session. It's the story of two strangers who are stranded after a tragic plane crash on a remote, snow-covered mountain. When they realize help is not coming, they embark on a perilous journey across the wilderness. It is an absorbing tale and a great read. So get the book and join the discussion.
Each space at the RV Park comes with full hook-ups, including 20/30/50 amp electrical, cable TV, Wi-Fi service, access to the RV Park's laundry and shower facilities, and a convenience store. Rally attendees will also have free access to the swimming pools and whirlpool/spa/hot tubs. Pets are welcome. There are only 5 cabins available for us, so be sure to get your registration form to Gary soon if you want one of them. Daily rate for a Deluxe cabin is ~$83.
If you want to stay an extra night(s) before or after the rally, please call the resort at 877-570-2267, tell them you're with GMC Western States, and make reservations directly with them to ensure you get our rally rate (~$45/night).
We will send out more information on the agenda for this rally as it becomes available.
Note: Because of financial commitments we have made with the Resort, we unfortunately cannot prorate either the meals or the number of nights at the Resort.
-----------------------------------
Mt. Hood Village RV Resort opened in 1984 and is known as one of the premier RV parks in the Northwest. For more information on the resort and its attractions and amenities, visit https://rvonthego.com/oregon/mt-hood-village-rv-resort/
The Timberline Lodge on Mt. Hood - www.timberlinelodge.com - is a must-visit attraction. At the top of their web page, click on The Lodge and The Details. The Lodge has a fascinating history, and the architecture and furnishings are definitely worth a visit.
<![if !IE]><![endif]>