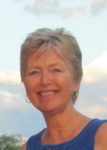 I hope you've signed up for the Oct. 4-9 rally at Mt. Hood. The RV resort looks amazing and we are planning lots of fun non-tech activities.
Dave deGraffenreid will be hosting the book review so be sure to read "The Mountain Between Us" by Charles Martin and join in the discussion.
We are offering a fun craft session to show you how to turn ordinary jars into lovely gifts. Come see how you can make a unique, quick, and easy hostess gift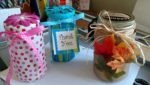 for practically nothing.
Donna Ventura will be giving us ideas for making delicious salads when we're on the road. We'll be making some to share with the group as well as getting some good recipes to try on our own.
Donna deGraffenreid will get us all together to make her famous, delicious bread pudding for one of the club dinners. That's always a fun time!
We will also have a Ladies' Coffee/Tea. We'll get together for some coffee/tea and pastries while we discuss some of our favorite places to go in our GMCs. Please bring a photo of your GMC in a scenic place and be ready to share some of your favorite places with us. There will be some nice door prizes so be sure to sign up and join us.
Deo Trovao will be organizing a Jokers and Marbles tournament so start practicing! Or just come to learn how to play.
Looking forward to a fun time in beautiful Mt. Hood, Oregon. Hope to see you there!