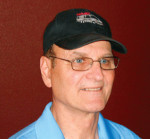 Getting Dick Paterson to come out West to a Western States Rally has been on my Bucket List for the last two years, and now I can check that off as a task completed. Dick agreed to do four tech sessions at the Coos Bay Rally – (1) Ignitions Systems – How They Work and Rebuild, (2) Oiling System – Top to Bottom, (3) How to Start and Run-In a Rebuilt Motor, and (4) Installing a Crossover Block Off Kit. All his seminars were very detailed and generated lots of interest!
Whether Gene Fisher is on the agenda or not, he is always there with helpful tips and advice. Every morning Gene lead out during breakfast with helpful and informative mini-tech seminars.
The two tech seminars put on by Jerry Work – "FiTech EFI It's The Real Deal" and "Fueling the Barbarian, Running the Onan on Propane Instead of Ugly Alcohol Gas" caused many GMCers to considering switching to FiTech EFI and think seriously about converting their Onans to propane. See his detailed slideshow presentation at http://www.gmcws.org/.
Jeff Fraisure's presentation - "Air Conditioning – How it Works, How to Repair It" - was another seminar for those "hands on" folks to learn how the system operates and how to fix it. Jeff's slideshow should be up on the GMC Western States website in a couple of weeks.
"The Lost Alex Birch Lecture" by Grandson, Greg Birch was as informative as always. We appreciate him sharing his family's story.
Jim Kanomata's seminar on "Front Bearing and Knuckle Procedures to Guarantee 80,000 Miles without Greasing" demonstrated how to disassemble the parts and explained what can be done to get 80,000 plus miles without greasing.
Our first ever, live Skype seminar with Jim Bounds was a fun experience! It was nice to see Jim's new shop and some of the coaches they are working on. He also told us about his exciting new process for creating interior cabinets and other wooden parts that will look better than a factory original finish. He also showed off his new front side window design that is now available!
It has been my pleasure to serve as your Tech VP the last two years and have the opportunity to get better acquainted with many of you. It has been an interesting journey, a little stressful at times; however, you never let me down. I was amazed at the Fall 2015 Pueblo Rally where many of you stepped up to the plate and put together spur-of-the-moment slideshow presentations to fill in for unforeseen seminar vacancies. This group is loaded with talent and a willingness to share information like I have never seen before! So thank you, Western States membership, for being there when I needed you and making me look good when it was really you that went that extra mile to make things happen!
I am pleased that the membership elected George Beckman as the new GMCWS Tech VP. I feel that I am leaving this position in very capable hands! Good luck, George.
See you all down the road!