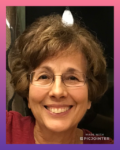 I just want to introduce myself as your new Secretary of the GMC Western States
My name is Blanca StClair. My husband Hal and I are retired and live in Rio Rancho New Mexico. We have been avid RVers for many years having bought our first 'camp trailer' when we were Married in 1972 and have owned one type or another RV ever since.
In 2013 we purchased a 1977 Royale GMC which my husband promptly converted to diesel, something he had always wanted to do, at least that's what he told me LOL
We are so thrilled with our GMC. Last year we actually spent about six months on the road with it, including attending a couple of GMC rallies and a big section of the Route 66 starting in Chicago, Illinois and ending in Albuquerque, New Mexico. A most fun and amazing trip.