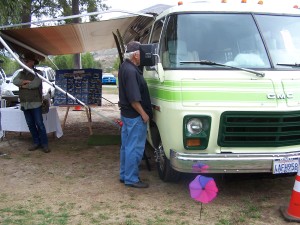 It's hard to imagine being one of over 400 vintage vehicles on exhibit but on May 24, 2015 that is exactly what Phil and I did along with Ed and Eileen Staal. Fallbrook Vintage Car Club puts on a great show every Memorial Day and this year was extra special because it was the 50th anniversary of the Car Club and also the 50th anniversary of the beautiful Pala Mesa Golf Resort where the event was held. A joint celebration was planned and what a success it was. Attendance was estimated at between 25,000 to 30,000 folks of all ages and there were fun things for everyone to do. A Beatles Tribute Band entertained for hours, wine, beer and good food were offered plus a huge play area for the little guys.
Phil and I and Ed and Eileen were parked in a great spot. We had our coaches shined up and looking beautiful both inside and out and had GMC pictures and information for all who were interested. Boy, were they interested. You know how when you go to a car show and everyone has signs that say "look but don't touch"? Well we didn't have any sign like that. People would walk up and peek thru the window and we would say "go right on in, we want you to see how beautiful they are on the inside too". We heard so many comments like "I always wanted one of these" and "this size would really work for us". Parents and their little guys sat on the sofa and at the dining tables which were set up for a nice meal complete with GMC Western States wine glasses. Hopefully we will be adding some new GMC owners to our group.
Exhibiting the motorhomes was a great experience. Do you have a local car show being held? See if they will accept a vintage motorhome and enter yours. The response you get will make you happy and you will show folks what a gem the GMC Motorhome is.