GMC MOTORHOMES
WHAT EVERY GMC OWNER SHOULD KNOW
(NEW AND OLD)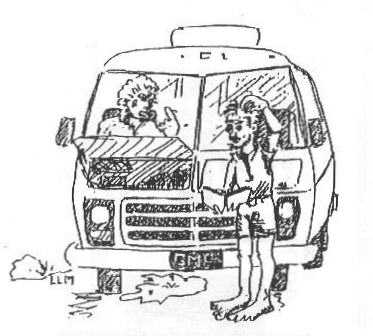 When all else fails
READ THE MAINTENANCE MANUAL
---
Many thanks to Len Mortimer for the cover art work & all those GMC Pacific Cruisers that reviewed this document prior to publication.
The contents of this document are based upon personal experience gained by "Hands-On" vehicle maintenance over many years. They are "One Man's" viewpoint & do not represent authorized data pertaining to the GMC Motorhome. It is the reader's responsibility to establish His/Her position associated with each subject matter before vehicle repair &/or modifications are accomplished.
COPYRIGHT 1998, 1999
---
DASH BOARD INSTRUMENTS
OEM
Engine water temperature gauge
- Normal temperature @ 1/4 mark
- Ready to blow (boil) @ 1/2 mark
- Don't let it get over 1/2 mark
- Turn on heater to get over grade
Oil pressure gauge
- Normal @ 1/2 or 5/8 mark when warm
- Will drop approx. 1/8 mark as oil heats
Generator lite
- Illuminates w/key on before start
- Illuminates when alternator fails
- Weak illumination under heavy charge w/o diode modification (early coaches)
- Max air operates blower directly from gen.
Fuel gauge
- 1/2 Tank @ 5/8 mark (level coach)
- Test fuel gauge & Low fuel lite
See Chuck Garton (760)375-5568 Ridgecrest, CA.
Fuel transfer switch
- Verify operation when low on fuel
- Click of xfer valve is indication of operation
- Replace old xfer valve with new 3 port solenoid valve (compatible w/today's fuel)
- Pollak p/n 42-103 (5/16")
- Standard p/n FV-1 (5/16")
- Ford Motor Co. p/n D5TZ-9189-B (3/8")
- GM Co. p/n XXXXXXXX -Made by Pollak (3/8")
Both tanks fill & Are consumed together
- Approx. 7 gal. in reserve (aux. Tank)
---
TELL-TALE LITE PANEL ETC.
Modify wiring so that "low air" indicator is illuminated when the air compressor is on (Requires ground connection thru air pressure switch)
(Note: "Low air" was replaced by "low water" in '76 +)
ADD-ON CONSIDERATIONS
- Dual air pressure meter ....Each air bag
- Red is port/left (driver side)
- Green is starboard/right (co-pilot side)
- Volt meter
- Monitor engine battery voltage
- Alternator lamp
- Lites when alternator is functioning
Carry & Use "Three lite type" AC Circuit tester to verify shore power polarity before use
- Also verify voltage level prior to use of micro wave or air conditioner (105 v. Min.)
Add thru refrigerator door seal type temperature gauge
---
DASH HEATER & AIR CONDITIONER CONTROL
GMC has "unique" control panel
- Vacuum select valve is unique wafer for vacuum control (don't loose wafer)
Replacement control panels are available
- Early 73-76: metal ........ 70/71 Buick junkyard
- Late 76-78: plastic ...... Mid 70-80 GM cars
- Retain oem wafer in replacement panels
- Replace fan switch (color code wire)
Repair control panel by cleaning / lubricating all moving parts
- Silicone grease into vacuum valves to seal
- Plastic panel: Replace broken plastic pins (center of valves)
Blower motor ('75 Eldorado blower)
- Replace only w/same size & rotation
- Late model coach active when ignition is on
-To disable, remove resistor unit connector & Bend front pin out of cable connector
- 73-74 Coaches: 30 amp in-line fuse near motor
-Replace with 30 amp auto circuit breaker
- Heater vacuum valve (in-line hose)
- Replace w/fresh unit: Shut off hot water during air conditioner operation (Valve is normal open type...Open flow without vacuum)
Separate hot from cold: Seal compartment doors- See Zay Brand (562) 598-5028 Seal Beach, CA
---
LIVING AREA GAUGES
GM configured coach: Malfunction causes
- Meter circuit board solder/etch ckt failure
- Solder to repair
- Wire breakage: Repair wire
- Sender unit failure: Repair or replace sender
(Note: Improved senders available at Cinnabar (800) 720-2227
- Loss of ground connection to propane tank
- Repair ground & Attach ground to sender area
Other coach configuration: Malfunction causes
- Lamp burned out: Replace lamp
- Lamp driver failure: Replace transistor
- Tank sender failure: Clean terminals
- Wiring failure: Repair wire
- Modification considerations
- Add lamp test circuit & Other improvements see Ed Burner (714) 871-2095 Fullerton, CA

---
ENGINE/TRANSMISSION COOLING
Fan clutch
- Replace with Hayden p/n 2797 (Lifetime warranty)
- Makes noise at morning start-up & with hot engine
Engine water thermostat: p/n 330-180 or 330-195
- Robertshaw co. best type @ 180f or 195f
Transmission cooler (Don't use plastic ties)
- Attach within 1" of radiator front w/o touching
- Double clamp transmission type hoses
Radiator cap
- OEM at 9 lbs release pressure (round shape)
- Hexagon shape cap at 7 lbs acceptable
- Don't use cap above 10 lbs or potential rad. Expansion
Transmission overflow vent (don't overfill)
- Add hoses to vent cap & Route to side of coach frame

Fan belts (aftermarket replacement: Goodyear Co.
| | | | |
| --- | --- | --- | --- |
| 11 mm belts | Alternator | Pwr Str | Air Cond |
| 455 ci | 15574 | 15466 | 15634/15621 |
| 403 ci | 15574 | 15466 | 15606/??? |
---
LUBRICATION
Engine oil: Single weight for ambient temp.
- 30w for fresh engine
- 40w for tired/hi mileage engine
Chassis lubrication
- Use extreme pressure (ep) chassis grease
- Synthetic grease best (Mobil 1, Amsoil, etc.)
- 13 grease zerks for front end
- Unload by raising coach off ground
- 4 grease zerks for rear end
- Unload by blocking bogies/deflating bags
- Move tire up & down while greasing
- Grease must exit at front and rear of pins
Wheel bearing lubricant
-Use ep synthetic wheel bearing grease (Mobil 1, Amsoil, Neo Oil, etc.)
Final drive (rear end/differential lubrication
- Use EP synthetic oil at 80-90w (Mobil 1, etc.)
Transmission lubricant
- Use Dextron II or III
Maintenance schedule
- Engine oil and filter at 3000 mile intervals
- Chassis lube Front and rear at 3000 mile intervals
- Add grease to bogies reservoirs @ 1k mile
- Final drive oil @ 12.5k mile intervals
- Wipe clean with rag & New 2 piece gasket
- Front & Rear wheel bear @ 25k mile intervals
- Transmission oil & Filter @ 12.5k mile intervals
---
BRAKES
Oem front wheel calipers w/carbon metallic pads
- Performance friction co. P/N 0524 (800) 521-8874
Oem rear wheel shoes w/asbestos lining
- GM p/n 1# 8020290/Delco peg 171-500 (2 sets)
Rear wheel cylinders
- Middle axle @ 1 1/16" Diameter (Wagner #F79767)
- Rear axle @ 15/16" Diameter oem (Wagner #f51081)
Rear wheel spring set @ all wheels
- Clean & Lube or Replace adjuster parts
Front brake hoses
- Replace before internal failure (check valve)
Combination valve
- Replace w/brass valve before failure
- GM #25509419/delco p/n 172-1350 (different electrical connector)
Master cylinder replacement: Wagner #f79821
Brake vacuum booster
- Replace w/handicap/sensitized unit
- Bob lamey (909) 982-7747 Ontario, CA.
Add "Brake guard"
- Equalizing units/shorter stopping distance
- DUANE SIMMONS ORANGE, CA.
Add brake vacuum reserve tank or brake elect. Vacuum pump (not both)
- Duane Edwards Castro Valley, CA.
Brake fluid
- Dot 3 high temp. (550 F) Ford Motor Co. or DOT 4
- Flush/change @ 2-3 yr. Intervals
Brake adjustment (rear only)
- 1K Miles after brake job & 5k mile intervals
---
FUEL SYSTEM
Delco fuel pump is best P/N 14566
Replace old fuel hoses w/quality hose only
- About 50 ft of 3/8" hose required
- About 25 ft of 1/4' hose required
- About 4 ft of 1/2" hose required
Drop fuel tanks (both)
- Remove or replace "socks" from pick-up tube & Bend tube to bottom of tanks
- Replace sender "o-rings" (special tool req'd)
- Place hose clamp screw mechanism on hose side (eliminate interference w/floor)
- Bond hoses into tank's hose track so they can not bounce out & be crushed against floor
- Route vent hoses (2) up against floor & join together (tee) near fill tube w/o low spots
- Replace 1/4" hose in Onan gen. Compartment
GMC motorhome carburator only: by part number
Remove & clean "vapor/liquid separator" (rear driver side WHEEL WELL) W/CARBURETOR CLEANER
-Repair leaks w/fuel epoxy putty
Fuel line: fuel pump to carburetor
- Metal tube only (fire hazard)
Electric fuel pump addition
- Install in aux tank fuel hose before fuel transfer valve (not in normal fuel path)
- or Install in main fuel line between transfer valve & engine w/check valve bypass
- Wire to transfer valve for operation in aux mode
- Check-valve path around pump in main fuel hose
Fuel filter
- Oem filter is in carburetor
- Add aftermarket in-line filter before mechanical fuel pump (change frequently)
---
ONAN GENERATOR
Use synthetic oil (4 QTS @ 15-$0 w)
- Mobil i, amsoil, neo oil, etc.
- 1 Qt low should shut down engine via "low oil pressure" (lop) circuit protection
Test "lop" circuit by jumping pin 12 to pin I on circuit board (engine stop with 3-4 sec delay)
Remote control cable connector j-1 (rear of comp.)
- Disconnect & Clean connector pins yearly
- Replace w/flat trailer connector or hardwire
Main cable connector j-2 @ 12 pins
- Disconnect & clean pins every year
- 2-26 Cleaner @ home depot's electric dept.
- Reshape female sockets to orig. Round size
- Eliminate connector: hardwire w/crimp type
BRIDGE RECTIFIER: AFTER MARKET - NTE#5328
-Adapter to fit - drill 1/4" holes for wire terminals
Onan voltage regulator
- Eliminate when faulty (tape up wires)
- Not reqd for coach w/common house battery
After market washable/hi flow air filter
- K&N Company: direct buy (800) 851-5334
- P/N R-1030 W/modification (cut off top rubber)
Strengthen with h duty steel starter bracket $30
- Ragusa pattern shop (949) 261-5898 Santa Ana, CA
Oem control board repair
- After market boards create problems for onan service/repair: cost effective to repair
- Technical assistance & oem board repair

---
AIR SUSPENSION SYSTEM
Replace old air bags which have enlarged diameter or badly cracked sidewalls
- Oem available: leak test upon receipt (40 PSI)
Rewire compressor power for "stiff" + & - power
- Early power level system reqd relay (30 amp)
- Electro level I & ii reqd rewire only
Rebuild "tired" compressor w/new heads, pistons, etc: see John Clement (909) 737-0969 Corona, CA.
Verify brass air line fittings for all connection
- Replace plastic air fittings 75-78 coaches
Eliminate air leaks & USE "Travel/Auto" Mode
- Provides automatic leveling feature with coach load changes
Replace oem air pressure switch w/after market
- Furnas CO. P/N 69MB7 (95 - 125 psi) or Equivalent
Rotate "Hot dog" Air bags 180 deg.
Back flush by releasing bag air into open tank
---
PERFORMANCE IMPROVEMENTS
Exhaust system
- Headers: - Calif HI-Performance Warehouse, Riverside 800-350-7110
- 1nstall headers & Have muffler shop 1nstall mufflers & tail pipe
-Fel-pro performance gasket set on headers
- Turbo mufflers (2): Napa Auto Supply, etc
- 2 1/2" In & 2 1/2" Out: Walker P/N 17733 or 17748
- 3" Tail pipe from "Y" To rear
- Remove oem 2 1/2" Tail pipe W/3" Collar
Ignition system
- Metallic conductor ignition wires to replace oem carbon impregnated wires
- Rebuild tired distributor w/new vacuum & mechanical curves: Bob Lamey (909) 982-7747 Calif
- Replace early coach (73-75) point type distributor w/high energy ignition (hei) oem type used on 75-78 coaches (car distributors are not usable w/o curve modifications)
---
GMC MOTORHOME TIRES
Personal choice:
All steel tires only w/steel sidewalls
- Size: 8:75R16.5 or 225R75-16 (Same diameter tires)
- Michelin: xps rib series - all steel
- Bridgestone: v steel rvi87 - all steel
- Goodyear: unisteel g 159 - all steel
- LOAD Range: "d" or "E' 5 year life
Tire air pressure
- Mfg air pressure load table per measured load
- Approx 5-6% reduction of max rated load per 5 psi underinflation
Maintain level coach for even weight dist.
- Travel w/air suspension sys in travel/auto
Radial rated wheels only for radial tires
Alcoa wheel recall: toll free 888-279-3055
- Date stamp 9/93 - 6/96 Inside surface Opposite Valve Stem


---
MISCELLANEOUS MECHANICAL
Replace engine timing chain/gears @ 100k miles
Replace black oem oil filler "l" boot w/silicone
- See De Davis: (714) 871-3618 Fullerton, CA
Alternate front wheel alignment (improved steer)

| | | |
| --- | --- | --- |
| | OEM | ALT |
| -CAMBER-RH | 0 deg | 0 deg |
| -CAMBER-LH | +3/4 deg | -1/2 deg |
| -CASTER | +2 deg | -1.5 deg |
| -TOE | 0" | 1/8' out |


Rear axle (only) anti-sway bar set
-Cinnabar (pair) (800) 720-cbar (share a pair)

Radiator repair: 4 row core w/14 fins/inch

Verify transmission governor valve opening
- Entry & exit opening @ 0.020" minimum

Spark plugs (455/403 hei: ac r46sz (0.060" gap)

Verify front floor-to-body mount support for cracks
-mid 76+ W/stamped aluminum support

---
MISCELLANEOUS ITEMS
Lower radiator protection
- Protect lower radiator from hwy debris
- 1/4" Hardware cloth minimum around lower radiator section
- Maximum protection w/steel frame & expanded metal
Steering gear box adjustment: most out of adjustment
- Maintenance manual procedure w/o removal from coach ( 2 adjustments required)
How many batteries ????
- One engine batt. W/high cranking current cap.
- One house batt. W/high reserve cap. -golf cart
-2 ea. 6 volt in series (connect + to - terminal)
- Add ground wire: engine batt to chassis/block
Shock absorbers: gas shocks only - stable ride
- Best all around is kyb company (approx. $35 ea)
- Front kg5435 (2 ea) lifetime warranty
- Rear kg5436 (4 ea)
Wheel lug nut torque
- Use torque wrench @ 130-150 fi-lbs in sequence
- Not maint. Manual value (250 ft-lbs): studs will stretch & break
- Radial wheels only w/radial tires
Rear axle nut torque: finger tight only !!!!!
Ground fault interrupt (gfi) problems
- Ac circuit of coach must have the chassis (green wire) isolated from the pwr neutral (white wire) to be compatible w/gfi shore pwr (Note: ONAN generator ties Chassis & Neutral together for proper Onan operation.)
Engine oil cooler hoses
- Oem hose @ 13/32" id-aeroquip co. 1503-8 (sae 100r5)
- Oem fittings are reusable w/o special tools
- Remove center (5/8" wrench) & unscrew hose w/left-hand thread
- Reverse procedure to install hose
Vermin "be gone": camphor gum bars in coach (3-4)
- Purchase @ local pharmacy: Humco (Texarkana,TX)
- May be special order
Gas refrigerator
- Annual clean: blow out burner, orifice & chimney
- Sand/polish thermocouple tube (part in flame)
- Verify recall on some norcold eyebrow model
- Fire Hazard: (800) 543-1219 Norcold CO.
Custom after market rear ladder $240
- Ragusa pattern shop; (949) 261-5898 Santa Ana, Ca
- Also other custom gmc aluminum products
Engine compartment "gill/vents": reduce heat
Oem publications: Cinnabar (800)720-cbar Sanduscy, Mi
- Operators, maintenance, parts book, etc.
Air bag protectors: aluminum or stainless steel
shore power cable: type "so" or "sow"
- Replace w/3 wire/10 awg flexible cable @ 30 amp
Oem gmc hot water heater (elect. W/preheat tubes)
- Replace w/ stainless steel tank: Jim Demaere (403) 329-3091
Lpg regulator: Marshall Co - type 290 or 294 (2 stage)
Replace oem rear suspension pins & bushings '73 & '74
- 1 1/4" Steel pins & brass bushings
Rattling/clicking noise of steering shaft
- Replace steering column lower bearing assy

---
GM OEM COACH MACERATOR SYSTEM
| | | | |
| --- | --- | --- | --- |
| Parts list | | | |
| Macerator pump, Model 18590-0010 | JABSCO | 1 ea. | $165.00 |
| 3" Gate valve T-1003vp | Valterra | 1 ea. | 13.00 |
| 3" Male adapter T-1005 | Valterra | 1 ea. | 3.00 |
| 3" Female adapter T- | Valterra | 1 ea. | 3.00 |
| 3" x 1 1/2" Eccentric | 1041-1 | 1 ea. | 4.00 |
| 1 1/2" Coupling (slip to thread) 5803-2 | Home Depot | 1ea. | 1.00 |
| Rubber 3" Tee PQT-300 | Auto Part | l ea. | 8.00 |
| 1" Washer hose dishwasher | Ace Hdw. | 16 ft. | 20.00 |
| 20 amp. Ckt Bkr ??????? | Auto Part | 1 ea. | 5.00 |
| 20 amp. Switch toggle (on/off) | Auto Part | 1 ea. | 5.00 |
| 10 Awg Wire ??????? | Auto Part | 1 ea. | 5.00 |
| Bracket, Mounting Custom | Miscel. | 1 ea. | ---- |
| Clamps | Miscel. | as reqd. | ---- |
| Pull handle rod 1/4" ROD | MISCEL. | 2 ft. | 3.00 |
| 1/4" TO 1/4" Coupler | Ace Hwd. | 1 ea. | 1.00 |
| Stow tube 1 1/2" PVC | Home Depot | 10 ft. | 1.00 |
| Total material estimate | | | 240.00 |